Preschool Program
3 - 4 Years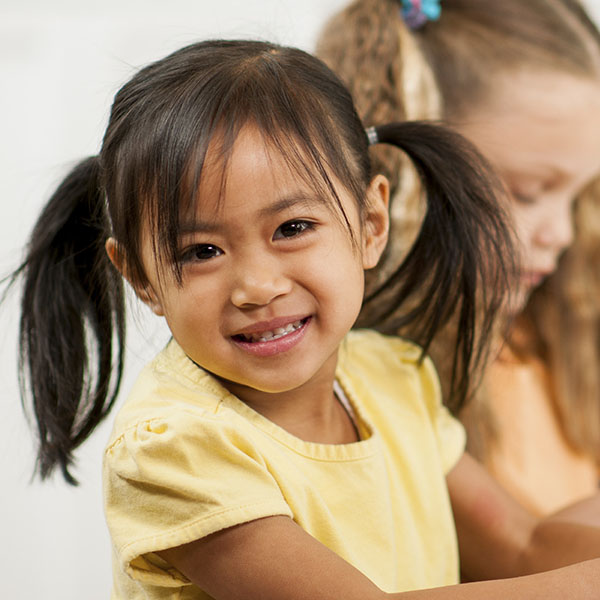 This starts with a classroom environment that is rich with materials, organized in various learning center areas. These areas are arranged in the room so as to maximize use of the area, and balance quieter areas with noisier ones. Your child's day will include opening circle time, with songs, new learning, sharing, and discussion of what is in store for the day. Then, he/she can move through the classroom, working with art materials, dramatic play, books, blocks, fine motor materials, as well as participating in a number of teacher-directed tasks. These tasks are designed to develop specific skills in your child that will help prepare him/her for future school experiences. We are aware of the kindergarten entrance expectations, and we work with your child to ensure that he/she is competent in those skills. We also want to send your child on to school with a love for learning, and the ability to work well with other children as well as independently.
Meals and Snack
Advantage will offer breakfast, lunch, and an afternoon and evening snack each day.
Our menu is on a 6 week rotation, with some seasonal changes.
Parents ARE allowed to bring in food for their children, as long as they are NUT FREE.
We allow both store bought foods AND homemade foods for the children.
What to Bring
Preschoolers should have at least one change of clothing. Everything should be clearly labeled with the child's full name. We recommend comfortable and washable clothing and shoes that can be managed by the child. Most of our art supplies are washable but sometimes they do not come all the way out of clothing. We will do our best to protect your child's clothing but there may be times when clothing may get stained.
PLEASE DO NOT SEND YOUR CHILD IN CLOTHING THAT YOU DO NOT WANT GETTING DIRTY.
Activities & Learning
At Advantage Early Learning Center, our preschool curriculum teaches critical lessons and sets the foundation for children to embark on their upcoming path through elementary school. Games, playtime, and activities will cover various materials in math, literacy, science, creative arts, and the alphabet (recognition & sounds).
In addition to the daily work in the classroom, students will also enjoy social time during lunch, free play, outside time, group projects, and exclusive school-related events. The program ensures the day is full of activities to stimulate the children and instill an organized, structured routine. This leads to students' ability to follow a routine, anticipate events, and manage expectations.