Current News
TEACHING THANKFULNESS
Helping our kids find gratitude and blessings in our everyday lives is so important to their emotional well being. Below are some fun crafts to reinforce being satisfied and practicing gratitude.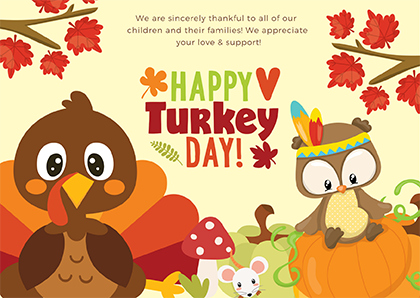 Tree of Blessings: Gather some branches from your yard/outside. Everyday, have your child(ren) write down on a construction paper leaf what they are thankful for and hang them with string from the tree. On Thanksgiving Day, read out each leaf.
Thank You ABC's: Ask your child(ren) to name something they are grateful for starting with each letter of the alphabet. Take turns and give them 5 seconds. This can be an especially fun car game.
Gratitude Jar: Decorate a mason jar with your kids. Each day before bed, write notes about what made them grateful that day. On Thanksgiving re-read all of your notes and have fun remembering everything your family is thankful for during the month.
We are sincerely thankful to all of our children and their families! We appreciate your love & support!
Reminders
We will be closed on Thursday, 11/25, and Friday, 11/26.
Events
November 7 - 13: Young Readers Week
November 8: Nat'l STEAM Day
November 11: Veteran's Day
November 13: World Kindness Day
November 25: Happy Thanksgiving
November 26: Black Friday
November 25 - 26: Center is Closed
November 30: National Day of Giving